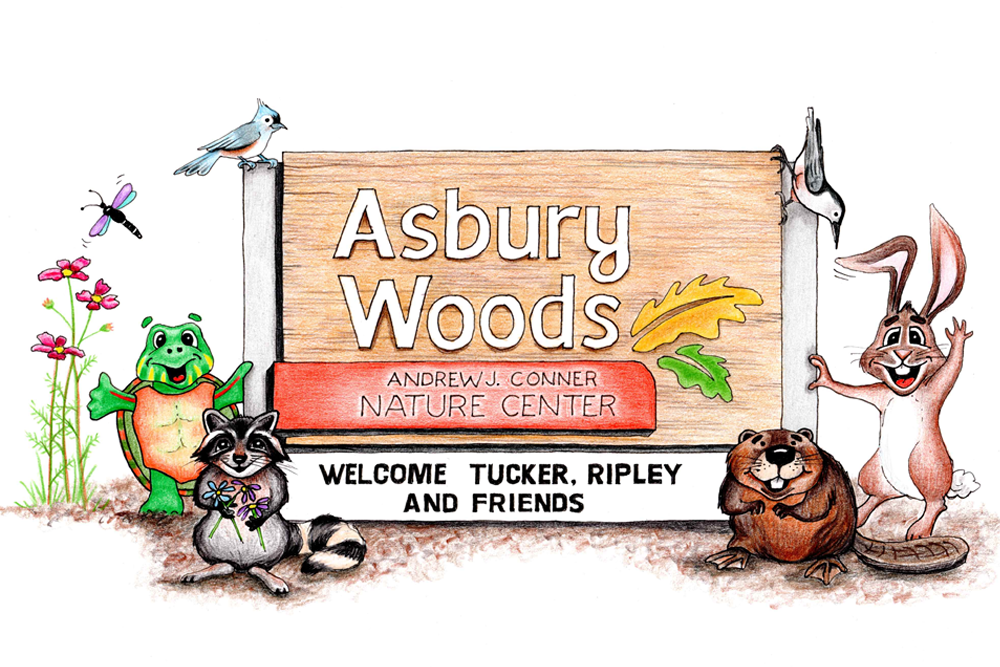 Meet Tucker Turtle and Ripley Rabbit as they take their friends on an adventure to Asbury Woods! This is the second book in the Tucker Turtle and Ripley Rabbit series that features highlights from Asbury Woods and the animals you may find along the trails and inside the Andrew J. Conner Nature Center. Each page comes to life with vibrant illustrations and a story that is not only heartwarming and fun but includes science and nature-based facts about the adventures.
A special fundraising program to launch the book and benefit Asbury Woods is being offered. Limited quantities of the book are available for pre-order. Your donation of $100 to Asbury Woods includes the first release of the book, signed, personalized, dated, and numbered by both the author and illustrator. Donations of $100 include the signed Tucker, Ripley, and Friends Visit Asbury Woods book and a bonus book, also by Eugene Ware, A Walk in the Park, a self-guided walking tour for hikes at Presque Isle. Donations can be made at www.asburywoods.org or at the Gift Shop inside the Nature Center.

Make Donation
The books will be available to the public mid-June at the Squeaky Frog Gift Shop at Asbury Woods and local bookstores in the Erie, PA area, in addition to Amazon and BarnesandNoble.com. Each book has a retail price of $27.95. Purchasing the book directly from Asbury Woods supports our mission of environmental education, outdoor recreation, and conservation.
A meet-and-greet with the author and illustrator and book sale launch will be announced in the coming weeks.
Gene Ware is a published author of eight books and is on the boards of Presque Isle Light Station, and formerly Board Chairmen of the Tom Ridge Center Foundation and the Presque Isle Partnership. He is also a goerie.com contributing writer. Send questions and comments to ware906@gmail.com
Randy Austin is a local self-taught artist who specializes in ultra-realistic pencil portraits of pets and people. He has had his work published in Angels on Earth Magazine.