Meet the Asbury Woods
Summer Camp Staff!
Asbury Woods is committed to providing a quality summer camp experience. Our summer camp educators are highly qualified individuals who enjoy inspiring others to get outside and explore.
Camp Director
Jessica Stefano
Jessica Stefano, Assistant Director of Education and Community Programs, has diverse professional experiences serving the Erie community of children and adults. She has a B.A. in Psychology and is a National Geographic Certified Educator, Wildlife First Responder, and a dedicated home school educator.
"Ever since I was a child, I was always fascinated by the creatures outside my window. I would spend hours and hours on imaginary expeditions cataloguing the creatures in my city backyard, creating books about the bugs and plants that I found, and spending weekends exploring Asbury Woods. Some of my favorite moments from my childhood (and my adulthood, truth be told!) were the magical moments where learning came alive for me. As an educator at Asbury Woods, I have the amazing opportunity to create those magical learning moments for kids in our region every day. I hope that every trip to Asbury Woods provides an opportunity to connect with our big, wide world. It's easy in the hustle and bustle of our busy lives to develop a narrow view of the world around us. Beautiful green and wooded spaces give us the chance to expand our view of the world."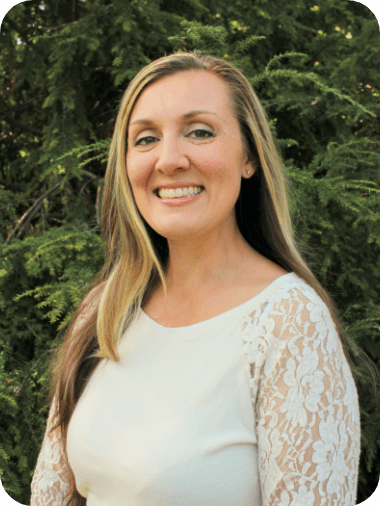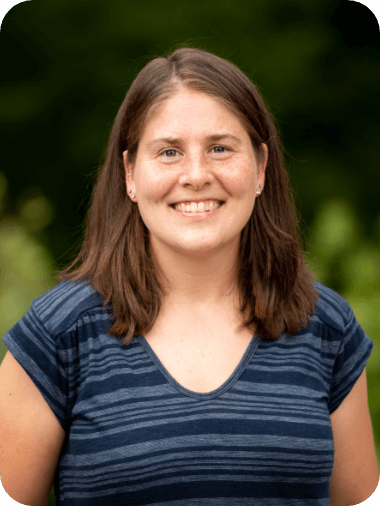 Melissa Goodwill
Melissa Goodwill, Education and Program Coordinator, has obtained her Bachelor's degree in Environmental Science and Master's degrees in Environmental Education and Parks & Resource Management. Melissa has worked for Asbury Woods as well as the National Park Service and the Pennsylvania State Park system.
"As a child, I could always be found playing outside. I was fascinated with everything nature could let me explore. From digging for bugs to climbing trees, I basically grew up outside. I always knew that I wanted to work in a job that allowed me to be outdoors where I feel most comfortable. I hope that after a visit to Asbury Woods people will learn that there are endless ways to enjoy and appreciate the natural world around us and that it's worth protecting. Being an educator allows me to help people recognize and learn about parts of nature that they may have never noticed before. From different types of bugs to unique physical features of the land, I get to help open people's eyes to all of the unique beauty of the natural world. When I'm not working you can find me playing with my dog, Brody, running, or enjoying a good book."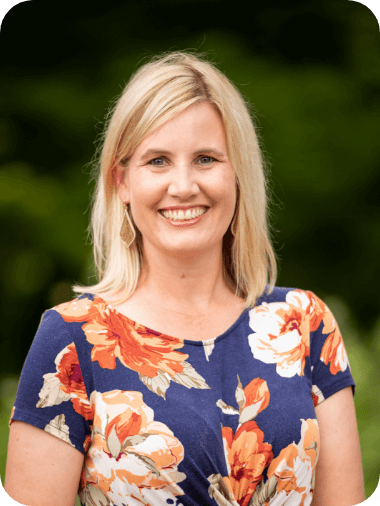 Jennifer Farrar
Jennifer Farrar, Executive Director, has spent more than 20 years in the nonprofit sector helping organizations raise money for their missions. For the past three years she's been thrilled to combine her professional experiences with her lifelong love of the outdoors through her role at Asbury Woods.
"My love of nature began as a child when my family would take walks in the woods and spend time at our camp adjacent to the Alleghany National Forest. My parents fostered an appreciation for time spent outdoors and the ever-changing beauty of the natural world. Asbury Woods is very special to me because it's a dose of natural beauty close to home that can be enjoyed year round. It provides a place to be active and healthy, a place to connect with friends and family and a way to feed the soul. It also serves as an example of how critically important it is to protect our environment and the natural world. This summer I'm excited to be co-leading our Trail Blazers camp once again! It's my hope that campers will deepen their appreciation for nature, while also challenging themselves to push the boundaries of their comfort zone. I can't wait to share moments of triumph and exhilaration as we tackle the trails together by foot and by mountain bike. When I'm not working, you are likely to find me racing sailboats on our beautiful bay and Lake Erie, walking in the woods with my sons and my Golden Retriever or reaching new heights hiking in the mountains."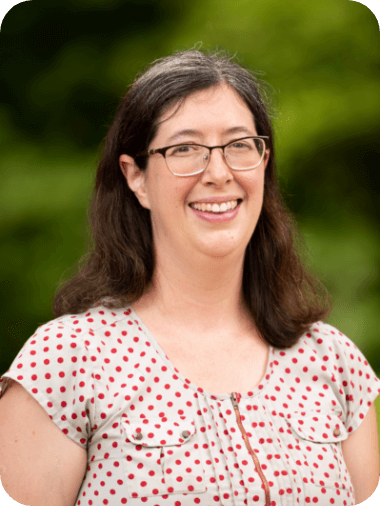 Kelley Lang
Kelley is the Director of Education and Community Programs and is responsible for the Summer Camp programming at the Nature Center. Kelley has worked in a number of educational and outdoor settings in her career, including as a naturalist at Audubon Center of the North Woods in Minnesota and the Northern Highland American Legion State Forest in Wisconsin. She holds Masters degrees in Forestry and in Education. She served with the Peace Corps in Togo, West Africa (RPCV, 2001 - 2003).
"My deep love for nature began with a childhood spent at my family's lake house in Wisconsin, chasing fireflies and exploring the lake shore. I hope the campers coming to Asbury Woods will find the deep sense of safety, comfort, and enjoyment I got at a child from being outdoors. As an educator, it is a wonderful gift to wake up each day and spend my time connecting children to nature and helping them to explore their interests in science. Asbury Woods is such a rich place for discovery! When I am not at work, you can usually find me enjoying outdoor adventures with my little explorers, Amelia and Elliot. I also enjoy bike riding, cooking, hiking, and spending time with my family. This year at summer camp, I am looking forward to helping campers to have their own wonderful experiences away from screens."
Sarah Lewis
Sarah Lewis, School Programs Manager, came to Asbury Woods as an AmeriCorps member serving a year-long appointment in the Education and Community Programs Department. She then transitioned to be a staff member, coordinating and delivering school group visits and community programs. Sarah holds a Bachelor's degree in Chemistry and a Master's in Education from Gannon University. In addition, she is certified as a secondary biology teacher in Pennsylvania.
"I grew up outside of Clarion, PA and my sister and I were always out in the yard playing or exploring the woods by our house. Even in t-ball I would take my glove off in the outfield so I could make daisy chain necklaces for my coach! I feel that nature and the outdoors have just always been a part of my life and I wouldn't feel complete without being able to go outside and explore. I love that at Asbury Woods you don't have to go to a huge national park to have an awesome experience in nature and that every day here is a new adventure or something to learn or see. When I'm not working you can find me volunteering as a sorority advisor at Gannon University, crafting, snowshoeing or hiking, or drinking coffee somewhere. I really hope that Asbury Woods helps to inspire an appreciation for nature in all of our visitors. I'm excited to be leading the Wildlife Biology camp this summer and helping campers discover more about the animals living in their own backyards through working with the Asbury Woods live education animals."