Meet the Asbury Woods Summer Camp Staff!
Asbury Woods is committed to providing a quality summer camp experience. Our summer camp educators are highly qualified individuals who enjoy inspiring others to get outside and explore.
Camp Director
Sarah Bennett
Sarah Bennett, Director of Education & Community programs, has years of experience teaching college-level biology, volunteering in the Erie community, and leading various programs. She has Bachelor's and Master's degrees in Zoology and is excited to use her education and leadership experiences to build upon Asbury Woods' already excellent programs.
"I have always been fascinated by the natural world and felt most at peace while walking in the woods. My favorite family memories are from camping and hiking in the woods. As I grew older, I wanted to know everything I could about how living things survive and interact with each other and to share that knowledge with people of all ages. I love that Asbury Woods offers so many ways for people of all ages to enjoy and learn about nature. As Director of Education & Community Programs, I am fortunate to lead a team of incredibly talented educators and naturalists to make nature accessible and exciting for everyone. I look forward to working with summer camp kids and their families to make Asbury Woods summer camp an unforgettable experience. When I'm not working, you'll find me reading, cooking, attending my kids' sporting events, or camping with my family."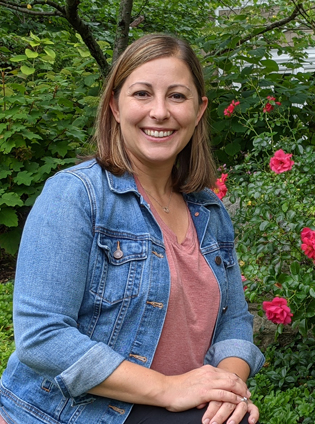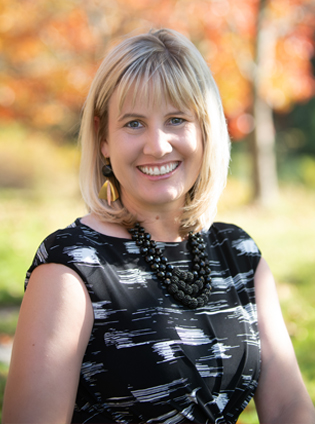 Jennifer Farrar
Jennifer Farrar, Executive Director, has spent more than 20 years in the non-profit sector helping organizations raise money for their missions. For the past four years, she's been thrilled to combine her professional experiences with her lifelong love of the outdoors through her role at Asbury Woods.
"My love of nature began as a child when my family would take walks in the woods and spend time at our camp adjacent to the Alleghany National Forest. My parents fostered an appreciation for time spent outdoors and the ever-changing beauty of the natural world. Asbury Woods is very special to me because it's a dose of natural beauty close to home that can be enjoyed year-round. It provides a place to be active and healthy, a place to connect with friends and family, and a way to feed the soul. It also serves as an example of how critically important it is to protect our environment and the natural world. This summer I'm excited to be co-leading our Trail Blazers camp once again! It's my hope that campers will deepen their appreciation for nature, while also challenging themselves to push the boundaries of their comfort zone. I can't wait to share moments of triumph and exhilaration as we tackle the trails together by foot and by mountain bike. When I'm not working, you are likely to find me racing sailboats on our beautiful bay and Lake Erie, walking in the woods with my two sons and two dogs, or reaching new heights hiking in the mountains."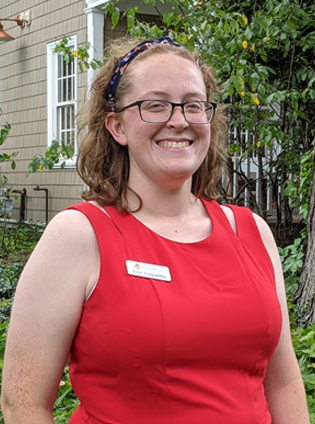 Erin Paquette
Erin Paquette, Environmental Educator, has a bachelor's degree in Biological Sciences and had taught in a variety of outdoor settings from state parks to overnight outdoor camps to zoos. Erin is looking forward to sharing their passion for the natural world.
"I have always loved being outside, from digging dirt forts under the back porch to making homes for pet worms to climbing the mulberry tree in the backyard for a summer day treat. As I went to school, I fell in love with science and finding out how nature in my backyard worked. One of the best aspects of my role as an environmental educator is sharing both my passion for and knowledge of the natural world. Asbury Woods has so much to be inspired by from a peaceful wooded stroll to a creek investigation to an up close view of some species that share the woods with us. I am excited to show middle school campers the joy of the woods. After hours, you will probably find me baking, working on a puzzle, or exploring a museum or nature trail."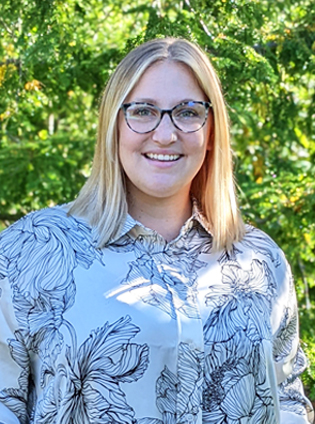 Emma Mader
Emma Mader, Environmental Educator, has a Bachelor of Science in Environmental Science with a concentration in freshwater fisheries and a Master of Science in Secondary Education: Pedagogy and Practice focusing on science education. She has worked with the Pennsylvania Department of Environmental Protection, the Pennsylvania Coalition of Oral Health, and Mercyhurst University. Emma can't wait to spread her love of the outdoors this summer!
"I can't remember a time in my life when I wasn't inspired by the world around me. Being in nature in any form brings me joy. I especially enjoy fishing and hiking with friends, family, and my dog! I have always wanted to learn more about the environment which has led me to where I am now, and I love sharing my knowledge and passion with those around me. An educator's job is critical in developing a deep desire in students to not only love learning itself but have a unique love for every subject they encounter. I care deeply about nature, and I believe that if children can explore and learn about nature in the programs like the ones we offer at Asbury Woods, they will learn to love the environment as much as I do. When I'm not at Asbury Woods you can find me wetting a line in our local waterways or taking my dog for long walks by the lake."
Casey Keating
Casey Keating, Interpretive Naturalist, has a Bachelor's and Master's degree in Education and loves helping children, adults, and families get outside and enjoy nature. She has worked at Girl Scout and YMCA camps and taught in indoor and outdoor classrooms in several states and countries. Casey is excited to help campers learn about and explore their natural world at Asbury Woods.
"Some of my favorite childhood memories are from hiking in the woods with my family near my grandmother's house. That's where I discovered the joys of exploring the forest, from climbing rocks and trees to watching animals, and from identifying usable plants to learning that the best-tasting water comes from a mountain spring after a long hike. This summer, I'm looking forward to meeting our campers and having fun together outside, finding magic and friendship in the forest. I'll be co-leading our Trailblazers, Girls Go Outside, and Wilderness Survival camps. I recently moved to Erie, so outside of Asbury Woods, I love exploring and experiencing the Erie County community, including parks, museums, festivals, and the beautiful natural areas in our region."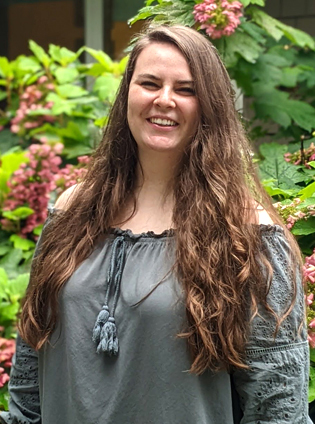 Amy Shook
Amy Shook, Interpretive Naturalist, has experience working in a variety of science, research, and environmental education settings. Amy has a Bachelor of Science in Environmental Science, and a Master of Science in Biology. She has done extensive research with Alligator Snapping Turtles, Sea Turtle education, and has worked at various camps, both overnight and day camps. Amy is very excited to share her experience and knowledge with campers and get them as excited about the world around them as she is!
"I grew up spending time outdoors and with my family encouraging me to explore and experience the world around me. I love going outdoors with people and sharing my excitement about what I can find. I love that Asbury Woods is such an important part of the community. If you speak with anyone about Asbury Woods, they all get excited and have fond memories of time spent there, and I find that to be so magical. I am very excited this summer to get to introduce campers to the little joys of nature. When I'm not working, I love to bake, spend time with friends and family, and enjoy nature in our area!"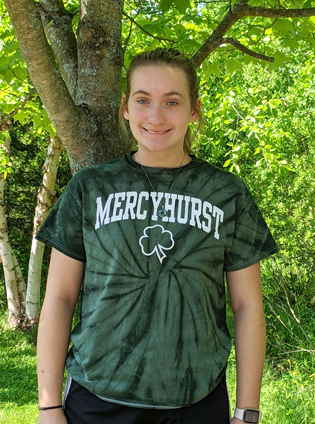 Kacie Burroughs
Kacie Burroughs, Camp Counselor, currently attends Mercyhurst University. She is working toward a bachelor's degree in Early Childhood and Special Education with a minor in Psychology. She has experience volunteering and working with children in summer camps and afterschool programs. Kacie is excited to provide an engaging and educational summer camp experience to help campers learn more about the outdoors.
"I am very excited to help campers learn about and explore nature at Asbury Woods! I have always loved the outdoors and had a passion for science that I am excited to share. I have many great memories at Asbury Woods, including volunteering at programs and summer camps and going on hikes with friends and family. I am looking forward to meeting our campers and having fun this summer!"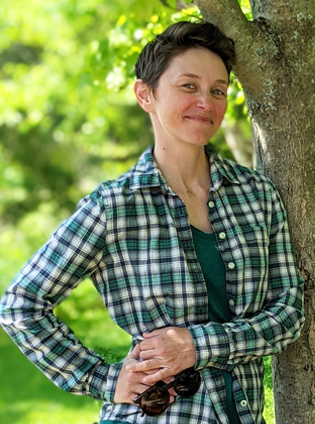 Katie Zawrotniak
Katie Zawrotniak, Camp Counselor, received a bachelor's in Environmental Biology from Clarion University (now PennWest) as part of a career change, after over a decade working in nonprofit administration and event management. In her new field she worked at the Department of Environmental Protection, Western Pennsylvania Conservancy, and the Carnegie Science Center, as well as many volunteer activities with a variety of conservation and education organizations. She's excited to share her love of nature and conservation with this year's campers.
"I grew up in a family that was decidedly not "outdoorsy." I didn't fall love with the natural world until adulthood. I know first-hand how uncomfortable it can be for some people to engage with nature. But I also know the thrill of identifying a rare plant, the gift of spotting migrating birds for the brief time they pass through, challenging yourself to do something difficult and succeeding, and the peace of sitting quietly next to water and listening to leaves rustling in the breeze. Nature is a place where I found myself, my courage, deep friendships, a sense of awe and wonder, and a whole lot of fun! I can't wait to share that with our campers this summer. When I'm not working, I'm usually still outdoors sailing, biking, looking for plants, and taking lots of pictures."