Hit the Trails at Asbury Woods
Asbury Woods is your place to get out and explore!
Our 216 natural acres of fields, forests and wetlands offer over 5 miles of breathtaking trails that are free and open to the public during daylight hours everyday.
We invite you to take a leisurely stroll along our serene woodland Boardwalk Trail, or hike the Greenway Trail to experience a scenic steel foot bridge that spans Walnut Creek.
In addition to hiking, other popular activities include mountain biking, bird watching, cross country skiing, and snowshoeing to name a few. Whatever your interest, our beautiful surroundings offer a unique way to explore.
Click below for an introduction to our trail system and safety tips on how to visit our trails while incorporating Leave No Trace initiatives.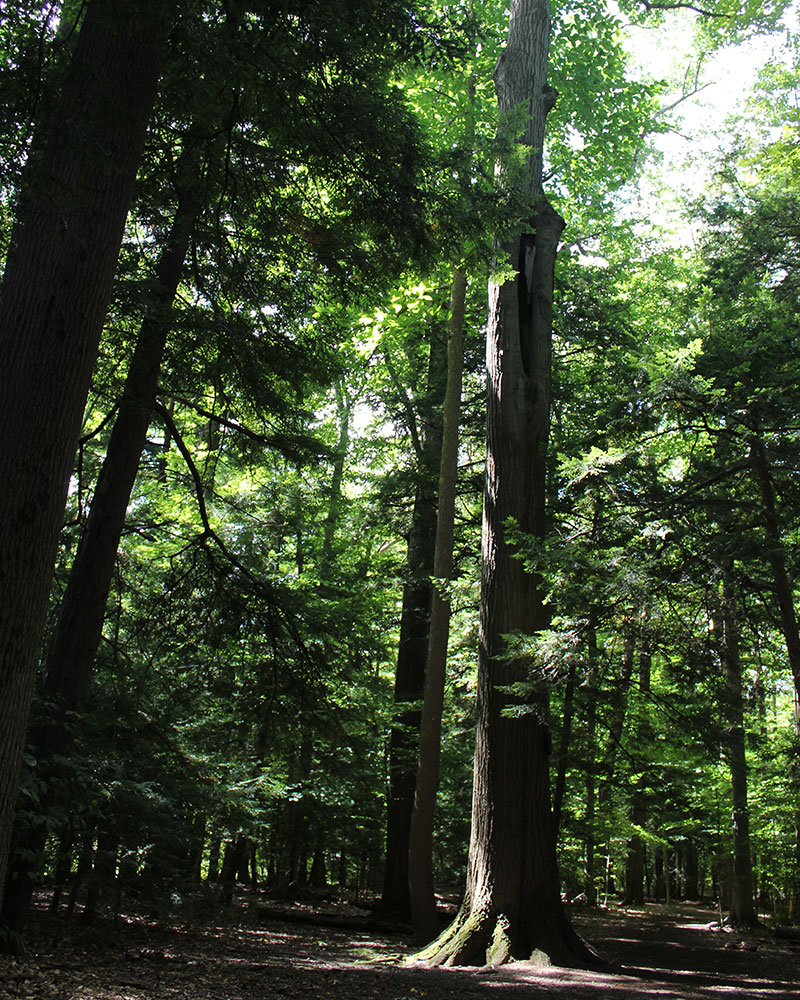 The Greenway Trail
The Greenway Trail connects a series of land parcels, with the Andrew J. Conner Nature Center and Brown's Farm Barn anchoring each end. Thanks to the Greenway trail system, one can walk from Asbury Woods Nature Center to Brown's Farm and back.
One of the most popular Greenway Trail highlights is access to Walnut Creek at the scenic steel walking bridge that spans the Creek.
The Greenway is operated as a cooperative venture between Asbury Woods, the Millcreek School District, Millcreek Township and Mercyhurst College. Asbury Woods manages and maintains the Greenway Trail system – with the help of many dedicated volunteers and donors.
Boardwalk Trail
A wide diversity of plant and animal life can be found along our 1/3 mile accessible Boardwalk Trail, located just behind the Nature Center. Trail features include mature woods, access to a quiet gazebo and a wetland deck where visitors can see summer dragonflies, turtles, ducks and more.
Ski and Snowshoe Trail Guide
In winter, snowshoes and cross-country skis are available for rent at Asbury Woods. A great way to embrace Erie's winters, visitors of all ages may rent this equipment for use on our 216 acre property during the Nature Center's regular business hours.
Trail Users
Trail Rules
Trails are open during daylight hours only.

Please stay on trails to protect fragile plants and animals.

Biking is permitted on the west side of Asbury Road only. Bikes are not permitted on the Nature Center trails (east side of Asbury Road)

Dogs must be leashed and waste disposed of in appropriate trash receptacles. We respectfully ask that pets are not permitted during events and festivals.

Skis are not permitted on the Boardwalk Trail at Nature Center on the east side of Asbury Road at any time.

Please pick up and carry out litter. Trash cans and recycling containers are available at trailheads throughout the property.

Please be aware that camping and campfires are not permitted anywhere on the property.

Take nothing but photographs, leave nothing but footprints.