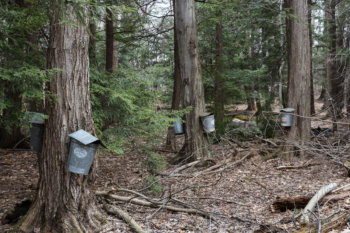 Maple Festival
Stay tuned for 2022 dates
The annual Maple Festival is a celebration of a heritage unique to our region. Sugar maple trees are a natural resource found only in our region of the world, and Asbury Woods proudly partakes in this tradition each year by tapping trees then collecting and boiling sap into pure maple syrup!
Learn more about this fascinating use of one of nature's sweetest renewable resources with an interactive and informative tour and demonstrations. The highlight is a stop in Asbury Woods working sugar shack where the magic of sap to syrup happens!
Due to COVID-19 restrictions on indoor gatherings and food preparation, we will not be offering pancakes this year, but we'll provide you with a sweet maple candy to sample instead. Still want more maple products? Several vendors will be on-site to tempt your taste buds with all manner of maple products.
Tours are approximately 75 minutes long and are geared towards all age levels. Tours are limited to 18 people per tour and will start every 15 minutes between the hours of 11:15 a.m. - 3:00 p.m.
Pre-registration for assigned tour times is required.
Tour Fee: $5
Children 3 and under are free