The Camp Experience
For over 40 years, Asbury Woods has been conducting top-quality day camps for children in elementary and middle school and providing leadership opportunities for high school students. All camps include nature exploration, outdoor activities, games, art projects, science experiments, and visitsbto Walnut Creek, located at Asbury Woods.
Extended Care
Extended care is offered to all full-day camp registrants in grades 1st to 5th with a morning session from 7:30 - 9:00 a.m. and an afternoon session from 3:30 - 5:30 p.m. for an added fee of $45 for either morning or afternoon care or $90 for both morning and afternoon care, which can be added to the transaction when registering for camp.

Click here to download a PDF of a camp offerings matrix that gives you a summer-long view of the camps that will be offered.
Click here to download a PDF of the camp brochure with descriptions of all the camps that will be offered.
There is a $20 charge for late registrations received after May 31, 2023.

Scholarships
All scholarships have been awarded at this time.
Camp Assistants
Asbury Woods is seeking individuals to volunteer as Camp Assistants during summer camps offered by Asbury Woods. This position is an opportunity for those who are selected to gain practical experience working with children, develop teambuilding skills, meet new people, learn about nature, and earn service hours. Any student that is entering 9th grade through college and is age 14 or older can apply.
Click here to download an application.
Submit a complete application to Sarah Bennett, Director of Education & Community Programs, by email
sbennett@asburywoods.org or drop it off at 4105 Asbury Rd.
COVID-19 Safety
In preparation for the 2023 summer camp season, continuing to mitigate risk of the spread of COVID-19 while providing a safe, positive summer camp experience remains our top priority. Asbury Woods is well-placed to offer a safe camp experience as we have always relied heavily on outdoor activity for our camp programs. We are accustomed to frequent cleaning routines due to our typical interaction with children of all ages. Our ability to spread out and limit access within our building allows us to offer true small group experiences for our campers with limited exposure to other children. Asbury Woods will follow all mandates from the local, state, and federal health agencies.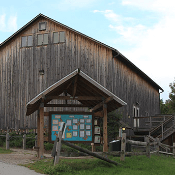 Brown's Farm Barn
5774 Sterrettania Road
Fairview PA 16415