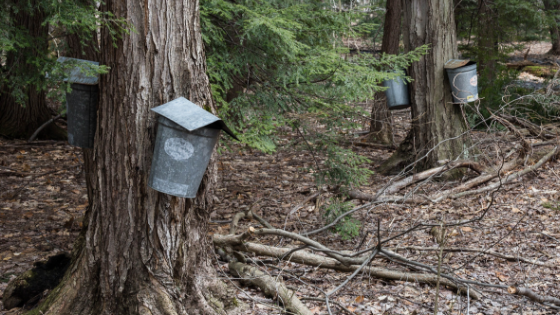 Asbury Woods is excited to once again offer the community a chance to rent and take charge of sap collection from specific sugar maple trees on our property. Individuals and families who participate in the program will be assigned a pair of two buckets that will be placed on trees in our Asbury Woods sugar bush, an area with many maple trees growing.
Trees will be tapped, buckets hung and labeled by Asbury Woods staff, then the renters take charge of collecting sap from their trees and have the opportunity to take the sap home to boil it down into maple syrup.
Each bucket can hold up to five gallons of sap and can be checked and emptied anytime during daylight hours over the course of maple syrup season. Participants must provide their own containers to collect and transport their sap home. Updates on sap flow will be provided to participants, but participants should plan on collecting sap 1-3 times a week during maple season. It takes approximately10-15 gallons of sap to make one quart of maple syrup. Converting maple sap to syrup is an easy, but time consuming, process so participants should schedule a weekend or two for boiling. Participants may need to purchase some equipment for boiling and canning their final product.
Information and education will be provided to all participants as the season progresses from Melissa Goodwill, Education and Community Programs Coordinator. Communication will also be posted to this page for future reference.
Program Details:
Fee: $25 for 2 buckets. Each bucket can hold up to 5 gallons of sap.
About Maple Sugaring
Sap collection season is entirely dependent on temperature fluctuations as a pattern of warm daytime temperatures, followed by cool temperatures overnight for several days is necessary to get the sap running. The quantity of sap produced from individual trees and duration of the tapping season varies from year to year. Participants can be at the ready for sap collection from approximately mid-February until late March.
Sugar maple trees are a natural resource unique to the Great Lakes region. This program is a way Asbury Woods can share our natural resources with the community," says Kelley Lang, Director of Education and Community Programs. "People often notice tapped trees, buckets and sap lines strung on trees as they travel throughout our region in late winter, but not everyone has trees on their property to experience maple syrup production for home and family use first-hand. We're thrilled to once again share our trees, sap and knowledge so people can try their hand at home maple syrup production. We sold out this program last year and we anticipate the same for this season."