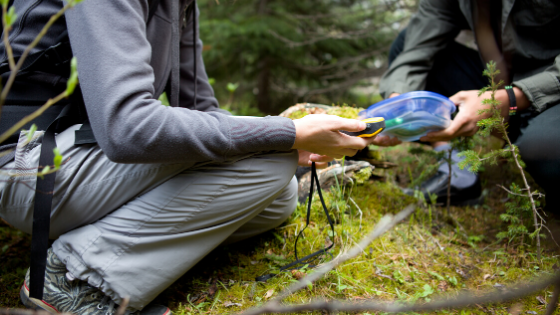 Geocaching: Modern Treasure Hunting
What is geocaching and what do I need?
Geocaching is a real-world, outdoor treasure hunting game using GPS-enabled devices. Geocaching members follow a specific set of GPS coordinates and then attempt to find the geocache container hidden at that location. All you need in order to participate is a GPS device or a GPS-enabled mobile phone and a Geocaching Membership account. The basic membership is free!
We created a small video to explain the basics of geocaching and how to get started. Click the video below for more details:
Where can I geocache?
Geocaching takes place all around the world. Many geocachers hide caches in locations that are meaningful to them. This could be somewhere in remembrance of a loved one or it could be somewhere special to the cache owner. These locations can be quite diverse. They may be at the park or beach, at the end of a hike, under water or in a tree stump, maybe near a local neighborhood garden. There are several on the Asbury Woods property!
When should I go geocaching?
Enjoy geocaching any season! You should read any notes the cache owner has published and ensure there are no restrictions on hours or access to the property where the cache is located. Some might be found near temporary wetlands that were hidden when the land was dry. Regardless of when you decide to go geocaching, make sure you are always using your best judgement and remember to stay safe!
Who can go geocaching?
Anyone is welcome to look for caches. Make it a solo adventure or an outing with family or friends. The treasure hunt is fun for visitors of all ages! Who doesn't enjoy adventure and exploration?
Why go geocaching?
While geocaching, you will realize that real-world adventures still exist through discovery and exploration. It's a fun way to stay active and healthy. Geocaching can challenge you physically and mentally. Challenging yourself to try something new like hiking, or exploring your imagination to find caches can be so rewarding. Geocaching can also guide you to moments of peace and serenity. Once you have found a cache look around you and soak in your surroundings. Discover places you never knew existed, including in your own neighborhood. Learn fun facts about Planet Earth and make the best of friends in the geocaching community!
Getting Started
If you are new to geocaching, there are some things you'll want to keep in mind such as cache types, difficulty ratings, and cache sizes. For beginners, a regular or large size traditional cache with a difficulty of 1 or 2 is recommended. For more experienced geocachers, smaller caches with higher difficulties are available. You may also choose to find Earthcaches and Trackables (explained further below.) Visit the cache's information page for types of caches.
Geocache 1
Another thing to remember is that you will need a GPS to find caches. A GPS is an electronic unit that can calculate your approximate location on Earth by using coordinates given in latitude and longitude. Downloading the Geocaching app on a mobile device might be the simplest way to get started. Using a handheld GPS unit is another way to get started. Use the GPS to navigate from location to location. Some handheld devices have their own maps, built-in electronic compasses, and voice navigations, depending on the device. To learn more about different GPS devices visit a Guide to Buying a GPS Device.
If you are using the Geocaching app, you can find the cache coordinates when you scroll down and click Waypoints on the cache information page, select the cache name and you should find the coordinates posted. You can also search for coordinates by visiting the Geocaching homepage, the Hide & Seek page, or advanced search page and manually entering the coordinates on your GPS device.
GPS Basics – How to Use Your GPS to Find a Cache
With the Geocaching app simply allow the app to access your location. This is important in order to find caches near you and to explore the app further. Remember to keep your location on while searching for the cache. Once the app is open, look for the blue dot. This indicates where you are on the map. When you zoom in closer you will see green circles with a box. These are caches! When you click on one of the caches a page filled with the cache's information will appear. You can choose to explore this information such as descriptions and a hint to help you locate this cache. Once you are ready to find your cache click on "Navigate" and start walking!
If you are using a GPS handheld device consider that there are different methods to loading coordinates depending on what device you have. Be sure to check your device's instruction manual. GPS devices with an interface cable can download the cache listing as a LOC file or GPX file. LOC files contain basic information about a caches. GPX files are available for Premium Members and include all of the basic data plus cache descriptions, hints and the 20 most recent logs. For most GPS devices, a third-party geocaching software will need to be downloaded to read LOC or GPX files. Visit a Guide to Buying a GPS Device to learn more.
Finding and logging a cache
It's easy to get disoriented when looking for a cache so try marking your starting place as a waypoint on the Geocaching app. The waypoint can be used as a guide to find your way back. This will also help future geocachers. Again, make sure to keep your GPS device on the entire time. There is a slight "error" to every GPS device due to technological limitations but so your device can get you close to the cache but you will need to look around the area to find it. Read those descriptions and hints to help you!
After finding the cache make sure to sign the logbook with your name, date, and perhaps a few words about your experience. Place the cache back exactly where and how you found it. Make sure to log your experience online by going back to that cache page and selecting "Log Geocache". Do this even if you didn't find the cache. The cache owner is notified of your log and will like to know about your adventure, but also about the condition of their cache. Feel free to upload photos to share your experience visually with other geocachers.
Geocache courtesy
Take something, leave something! If you take something from the geocache, leave something of equal or greater value.
Log your find! Write about your find in the cache logbook.
No Spoilers! Log your experience at www.geocaching.com, but make sure you do not mention the exact spot of the geocache. Let others use your experience as a guide.
Please do not move a cache from its original location! There are several geocaches hiding along the trails at Asbury Woods. If you feel that there is something wrong with the cache you may reach out to the cache owner. Cache owners are responsible for maintaining their cache placements and maintenance.
Extra Challenges
EarthCaches – these are special geological locations people can visit to learn about a unique feature of the Earth. EarthCache pages include educational notes and coordinates. In order to log these types of caches, visitors usually have to answer questions about the geological feature or location. For more information about these caches visit EarthCache.
Geocache Trackables – these are physical geocaching "game pieces." You will find them in geocaches or see them at geocaching gatherings. Trackables are imprinted with a unique code that can be used to log its movements on Geocaching.com as it travels from location to location around the world. To learn about logging and more on Trackables visit How to use a Travel Bug.
Making Your Own Geocache - Members of the geocaching community are dependent on each other in keeping track of the maintenance of the geocaches. Ultimately it is up to the cache owners to check up on their caches but as visitors log their experiences, they sometimes let the owners know the conditions of the caches. Any member can hide a cache and that's including you too! It is recommended that you first participate in finding a variety of caches of varies difficulty levels. This will help you understand what makes a great cache hide and create an interesting cache that everyone will enjoy!
Before you place your cache visit the Guide to Hiding a Cache and the Geocache Listing Guidelines. Make sure you understand these guidelines before submitting a cache for review. A volunteer in the geocaching community will review your submission to ensure that the cache meets the guidelines and post it on the website. Know that it may take up to seven days for the volunteer to contact you.
Geocache Resources