Asbury Woods is thrilled to have been selected as one of five nonprofits for the 2021 Country Fair Cares program.
Now in its third year, this community investment program is a way for Country Fair to make a big impact in its hometown. The program runs May 1 – October 31, 2021, at designated Charity Pumps at various Country Fair locations in Erie County. Two cents per gallon pumped at the Charity Pumps will be pooled and then divided between the five nonprofits. At the conclusion of the 2020 six-month timeframe, Country Fair was able to donate $28,455 to each nonprofit.
Asbury Woods joins the Presque Isle Partnership, Erie Humane Society, Mental Health Association of NW PA, and the Autism Society as this year's partner charities. Paul Rankin, Vice President of Country Fair, commented, "The Country Fair Cares program was initiated so we could have a major impact each year on the nonprofit sector in our community. Country Fair started in Erie, and we remain committed to the Erie area. By partnering with local charities and individuals purchasing gasoline, we can work together to invest in these organizations who make up the fabric of our region."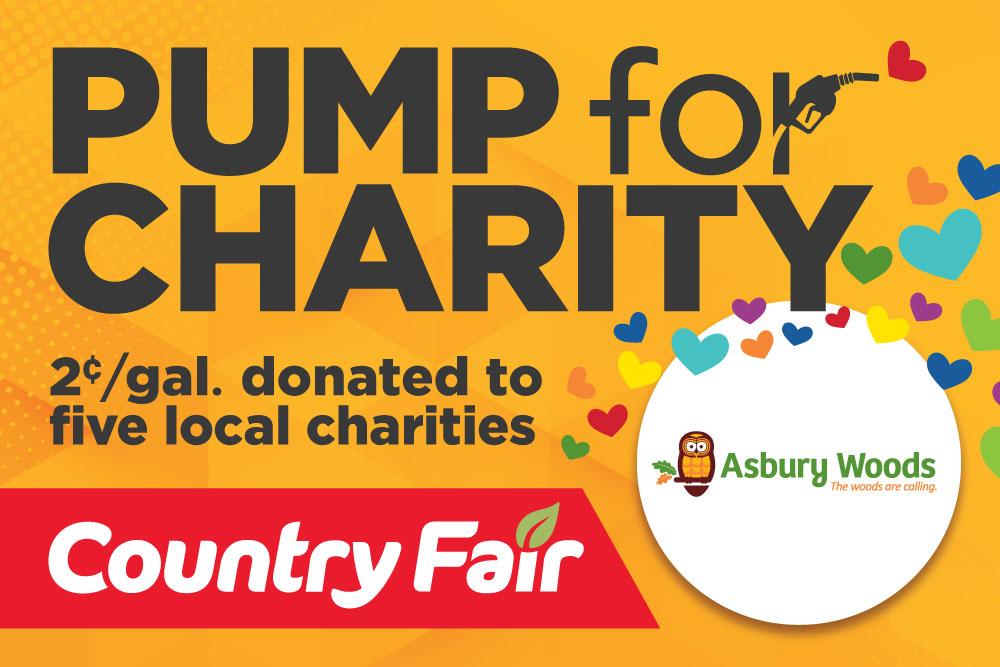 Jennifer Farrar, Executive Director, stated, "Asbury Woods is grateful for corporate partners like Country Fair who recognize the value of the nonprofit sector in our community. The power of their marketing and the number of locations available to Pump for Charity helps us have a reach beyond what each agency could achieve on their own. We applaud their efforts to rally this incredible support for Asbury Woods and the other four organizations."
Look for the designated pumps at Country Fair, and be sure to Pump for Charity to support Asbury Woods and the four other nonprofits.
Share it on social with the hashtag #CoFairCares so we can give you a shout-out for helping raise money for Asbury Woods and our community!