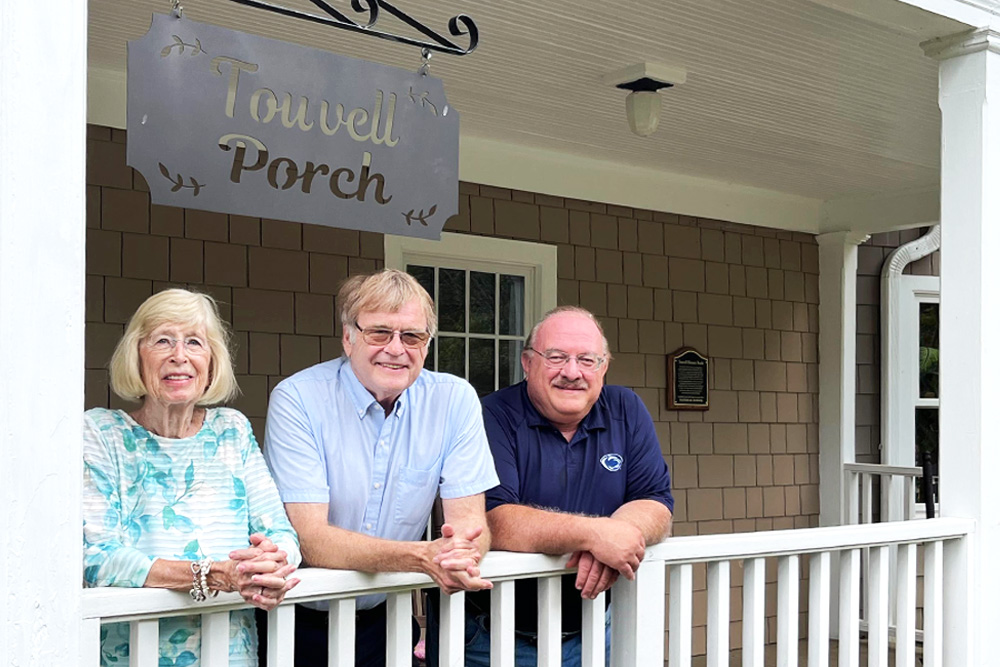 "Our dream has come true." A powerful message from Kay Buffington and Steve Wasiesky, who recently donated to the Asbury Woods endowment fund to honor Richard "Dick" Touvell. The donation is in recognition of Dick's impact on the development of Asbury Woods. He was the in-residence teacher, naturalist, and site director from 1969-1974. His tenure saw the development of environmental education programming for school groups, teacher workshops, and summer camps. Kay and Steve's generous endowment gift allowed the porch of the historic cottage to be named in honor of Dick.
The donation has been a dream of Kay and Steve for many years, stemming from their memories of the early years of Asbury Woods when Dick and Kay's husband John "Red" Buffington would sit on the porch discussing plans for Asbury Woods. Kay's husband and Steve were some of the first volunteers at Asbury Woods. They assisted Dick in making those plans and Dick's vision to connect more people to nature a reality, helping advance Asbury Woods along its journey to where we are today. The endowment gift in honor of Dick ensures Asbury Woods' continued excellence in environmental education for future generations.
An endowment gift is a donation that is given with the intent to preserve the original value of the gift and to grow it over time. The funds are held in perpetuity and invested, and the accumulated appreciation and income on the investment is used to fund an annual distribution. The annual distribution is spent according to the donor's wishes. Through this dedicated stream of income, an endowment gift ensures the stability of Asbury Woods, supporting environmental education, conservation, outdoor recreation, and helping to inspire a greater connection to the natural world.
Gifts to the endowment can support your dreams of environmental education or conservation. There are many ways you can make a gift to support the endowment: a one-time gift designated to the Endowment Fund; a memorial or honorarium gift through the Celebration Garden; or you can designate a portion of your will, bequest, or estate plan be gifted to the Asbury Woods Endowment Fund held at the Erie Community Foundation. The Asbury Woods Endowment Fund value is $219,864.25 (as of 12/1/2021) with a goal of $1.5 million by 2030 (approximately twice the current annual operating budget).
If you are interested in discussing the Asbury Woods Endowment Fund or making a gift to it, please contact Carissa Snarski at 814-836-6179 or csnarski@asburywoods.org.