Donor Spotlight: Bill, Sharon, and Neela Gdaniec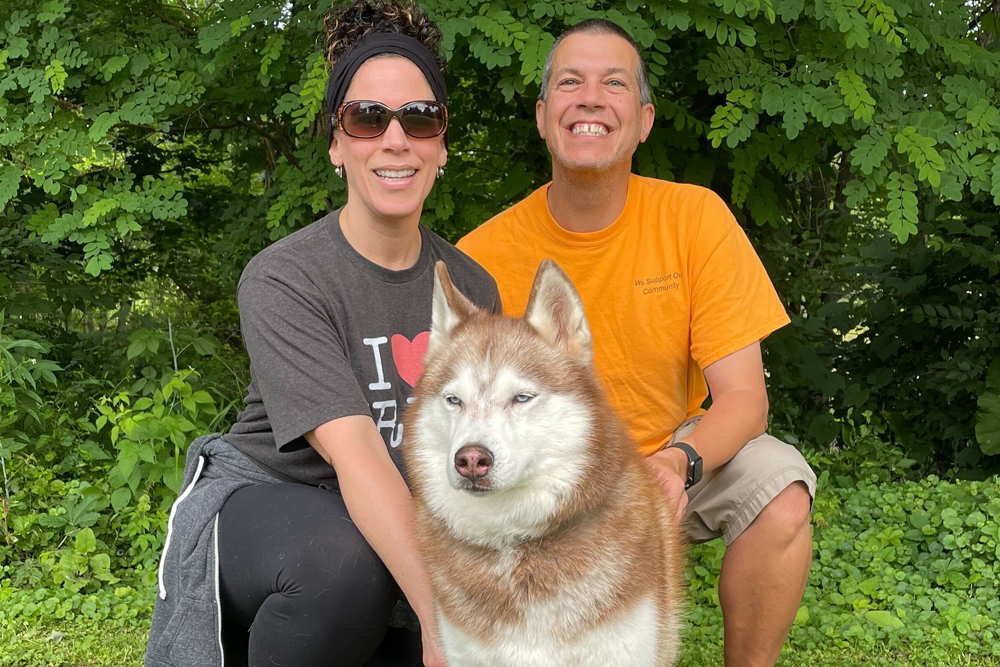 Neela is all smiles, licks, and wiggles when she's at Brown's Farm. She just loves Asbury Woods and knows when it's time to go on a hike with her owners, Bill and Sharon Gdaniec. Bill and Sharon rescued Neela a little over a year ago and learned about the dog walks held at Asbury Woods from their trainer. They wanted to introduce Neela to other dogs, and the group hikes were just what everyone needed.
Bill and Sharon live in Harborcreek and love the outdoors and take advantage of the many natural places and parks that the area has to offer, like Presque Isle, Lake Erie Bluffs, and Asbury Woods.
"Being outdoors is so relaxing. I love seeing all the different animals, flowers, and waterways along our hikes. I grew up in the country and enjoy the outdoors, so taking in nature in all the seasons is something Bill and I love to do together, and now love to do it with Neela," says Sharon.
The two recently started hiking at Asbury Woods, when Bill's employer, John Cockerill Company, adopted the gardens at Brown's Farm. Bill, along with his coworkers, tends to the gardens as a teambuilding opportunity, and to serve the community. Soon after, he and Sharon adopted Neela, and the hikes at Asbury Woods became something they all looked forward to.
"We enjoy all the programs and the beautiful trails and support Asbury Woods as a way to pay it forward. We feel strongly that we should contribute so that the land, trails, and opportunities at Asbury Woods stay available. We know nonprofits need funding to support all that they do, and to have this free and open for all to enjoy is wonderful. We donate so that opportunities like this are available for everyone," says Bill.