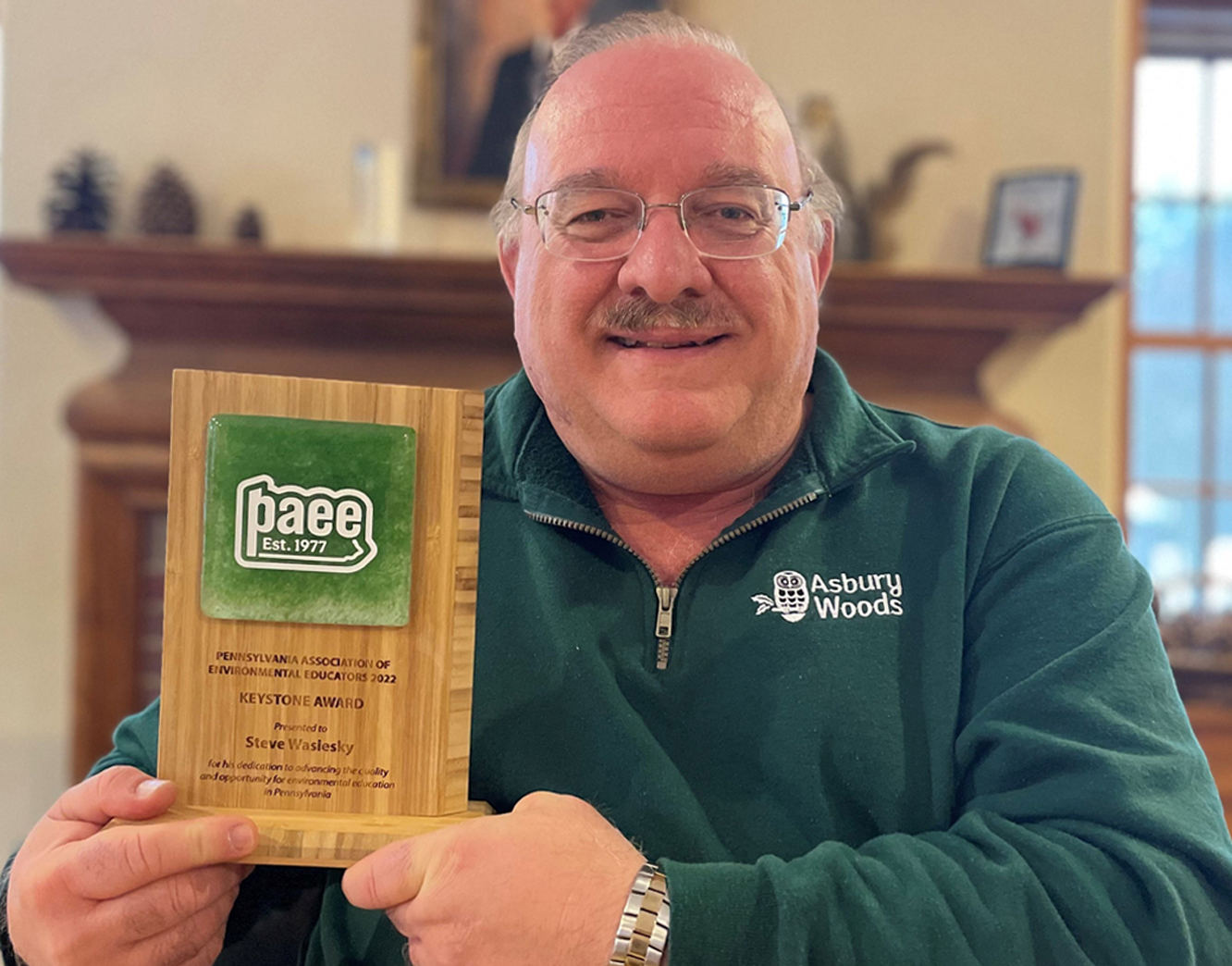 Congratulations to Steve Wasiesky, Keystone Award Recipient
Asbury Woods is thrilled to announce that Steve Wasiesky, Millcreek Township School District Environmental Educator and longtime fixture at Asbury Woods, has received the acclaimed Keystone Award from the Pennsylvania Association of Environmental Educators at their annual conference in late March.
The Keystone Award recognizes an educator who has dedicated their life to advancing the quality and opportunity for environmental education in Pennsylvania. Recipients of this award display uncommon and exceptional understanding, passion, and commitment to environmental education and serve as an inspiration to other environmental educators.
Steve's service to Asbury Woods began as a youth volunteer and that formative experience sparked 52 consecutive years being engaged at Asbury Woods over the years as a volunteer or staff member. He served as Executive Director of Asbury Woods Nature Center from 2011 to July 2016. In 2016, the nonprofit Asbury Woods Partnership purchased Asbury Woods from the Millcreek Township School District and Steve transitioned to his current role as the Environmental Education Coordinator for the Millcreek Township School District (MTSD).
Over the years Steve has developed environmental science curriculum and taught students in Kindergarten through 12th grade when they visit Asbury Woods from Millcreek Township School District. Steve has been a member of PAEE since the late 1970s and has served on the Board of Directors for PAEE since 2010. He has held the position of NE Regional Director and was President from 2018 to 2020. He is currently serving as Past President of PAEE. Steve also serves on the Board of the Lake Erie Arboretum, Advisory Board for the College of Science and Health Department at Edinboro University of Pennsylvania, The PA Advisory Council for Environmental Education, and the Content & Writing Committees for the 2020 update of the PA State Academic Standards for Science & Technology and Environment & Ecology.​
"Tens of thousands of students have benefitted from Steve's deep knowledge and passion for science, the environment and the outdoors. He's helped ignite lifelong values of conservation and environmental stewardship in untold numbers of youth as he helped them learn the importance of our watershed, the interconnectedness of our environment and how they can personally make a difference. We are thrilled to share our congratulations to Steve for this well-deserved lifetime achievement award in the area of Environmental Education," says Jennifer Farrar, Asbury Woods Executive Director.