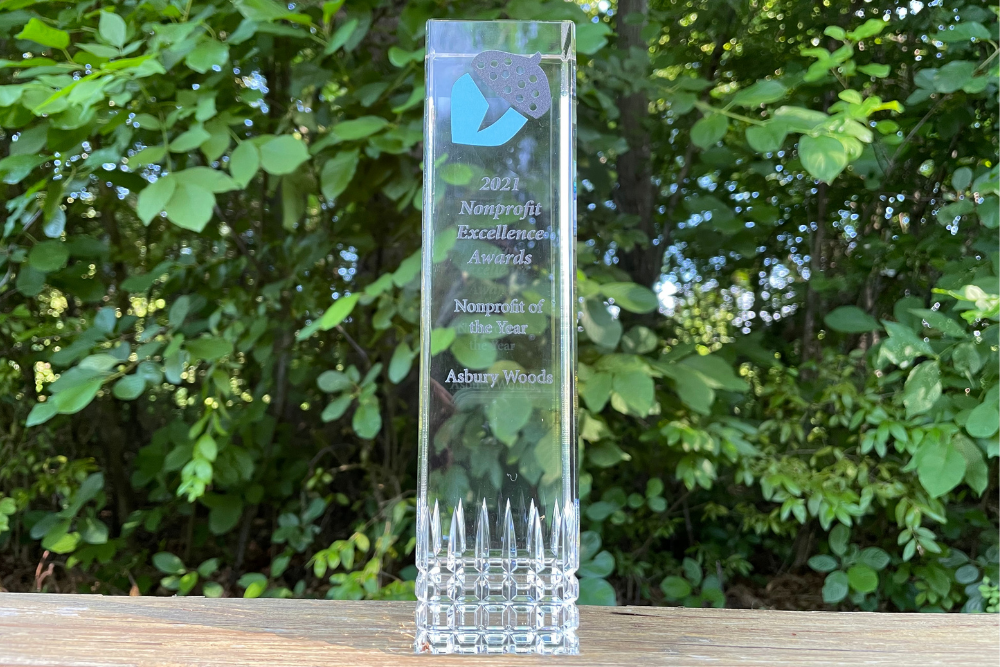 This week is Celebrate Nonprofits Week! It's an initiative of The Nonprofit Partnership, a membership-based 501(c)3 organization that seeks to advance the nonprofit sector by promoting best practices, fostering connections, and celebrating excellence. All week the Nonprofit Partnership is announcing the recipients of this year's awards for excellence.
We're pleased to announce that Asbury Woods has been awarded Nonprofit of the Year!
The Nonprofit of the Year Award recognizes an outstanding nonprofit organization that is making a big impact in our community.
"Asbury Woods thrives because of incredible support from the Board of Directors and the knowledge and creativity of the staff. Additionally, the volunteer engagement and constituent generosity enable Asbury Woods to be a place where people can relax, recreate, and appreciate nature. During a time when the world shut down, Asbury Woods remained opened. We knew that a connection to nature and being outside during the most stressful time in our lives was important for many people. We continued to find creative ways to offer in-person programming in a safe way and added virtual lessons to continue our mission of environmental education. The past several years of strategic planning plus strong community support enables Asbury Woods to remain a vibrant resource for the community to enjoy."
– Dan Franks, Board Chair
"Since becoming a fully independent non-profit in July 2016, Asbury Woods has been on a journey, charting our course for the future, re-envisioning our mission, and ensuring we are a place where protection of and appreciation for the natural world is a deeply held value. This award is the culmination of several years of work investing in our property, staff, and infrastructure; updating systems, processes, and governance; and expanding the number and variety of programs we offer for outdoor recreation and environmental education. The dedication of the staff and board ensured we were well-positioned to weather the pandemic and continue to be available for all members of the community. Our donors have provided steadfast and increasing support as we've grown and evolved while staying true to our purpose. This award is truly shared by the entire Asbury Woods community."
– Jennifer Farrar, Executive Director
Thank you for your incredible support! Congratulations are in order for all of us with this award of Nonprofit of the Year!
We hope to see you in the Woods soon,
Dan Franks, Board Chair
Jennifer Farrar, CFRE, Executive Director
For more information about the Nonprofit Partnership and other award recipients please click here.